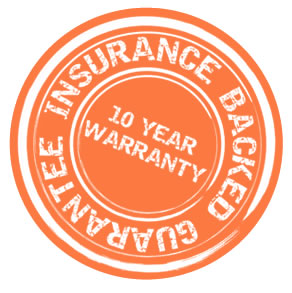 Offering a Double-Glazing Guarantee.
Offering a guarantee used to be considered 'best practice' but as of 2014 it became mandatory that all tradespeople MUST provide an insurance backed guarantee with every installation or home improvement project. As a tradesman or installation company, not only must you provide a guarantee to all customers, the guarantee itself must also be valid. So, how do you ensure the guarantee you're offering is valid?
Having a Valid Guarantee.
In the fenestration industry, the guarantee you offer should look to meet a certain number of requirements:
Recognised by FENSA – FENSA stands for 'Fenestration Self-Assessment Scheme' and it's a government authorised scheme that recognises installers for their high standard of workmanship. They also endorse companies who provide genuine home improvement guarantees on their work.
Covered for at least 10 years – it's important you offer a guarantee that lasts for at least a 10-year period as this is the standard length for a home improvement guarantee. By offering a guarantee of this length, you're letting your customers know they can trust your company to support them which improves consumer confidence.
Backed by a UK authorised insurer – if your company uses a well-known insurance provider then the established name can help boost consumer confidence.
What Makes it Insurance Backed?
You now know how to have your guarantee considered as valid but why do you need to make it insurance backed?
An insurance backed guarantee benefits both you and your customers. It ensures customers that, in the unlikely event of your company ceasing to trade, they're covered in case any issues arise with your installation work. The guarantee is protected and will be carried out if your company ceases to trade for the following reasons:
Liquidation.
Receivership.
Bankruptcy.
State retirement or death of the CEO/owner/principal.
Company no longer exists.
Why Choose the CPA?
At the CPA we're leading providers of Insurance Backed Guarantees and warranties for the Construction, Fenestration and Home Improvement industries. We're also recognised as a FENSA approved IBG provider.
We don't only deal with IBGs. By becoming a CPA member you're letting people know you're a company that can be trusted. We allow you to offer deposit protection schemes to your customers as well as offering you marketing support and sales training. We'll provide you with quarterly assessment reports, so you know how you're doing. We've had 20 years of supporting installers so let us support you too!
If you want an IBG for your company that you know is valid and will improve the relationship you have with your customers, then join us today! Or, if you'd like to know more, you can get in touch with us.