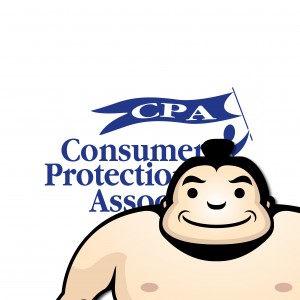 A relationship which will see the CPA succeed further
Since last January, the CPA have been teaming up with consumer insurance passionate mascot Sumo Yuki, who together launched the #Togetherstronger campaign which served to emphasise the importance of using reputable tradesmen.
The successful campaign is now set to grow ever further thanks to a match made in heaven, with Yuki set to marry Akiko – an experienced architect and property professional, who he met in London whilst working for the CPA.
Yuki will now remain in the UK to further the important cause who with both Akiko and the CPA will continue to promote best practice across the glazing and wider construction industry, working with installers to help them win profitable new business.
Yuki and Akiko: A match made in construction heaven?
It's not only love that's in the air with this pairing however, with Akiko successfully helping Yuki on his mission to help home improvement companies boost their order books and become industry leaders; and the campaign message is evolving to become #Evenstrongertogether.
The CPA has been a respected and trusted provider of IBGs ad Deposit Protection for over 20 years now, being widely recognised by installers and consumers alike as a reputable resource for finding accredited and vetted tradesmen. Making it increasingly more difficult for cowboy builders to take advantage of homeowners as a result.
A recent survey highlighted the fact that 70% of consumers recognise the value in having their finances protected by the CPA, making them as certified members far more likely to win business over the competition as a result.
A move that has industry figureheads excited
The CPA recently revealed that a record number of new members had acquired CPA membership as a result of CPA and Yuki's hard efforts, with many new joiners seeing the benefit in opting for protection from an independent provider. It's an all important factor that allows members to retain their independence too.
Jeremy Brett, our Managing Director, expressed: "Our members are known for their quality and integrity; and the CPA brand and ethos inspires confidence amongst homeowners, making it easier for our members to win new business."
Yuki concludes: "The CPA is a great organisation and is making a huge difference to the industry by helping installers and boosting its image. I'm glad to be here and now with the help of the lovely Akiko, we're on track to carry on our crusade against cowboy builders."