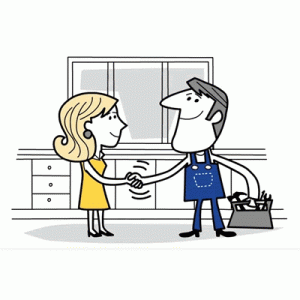 At the CPA we make it our mission to ensure that consumers in search of home improvements are always confident and assured that the installer they invest in is always accredited and reliable. We regularly offer advice and
protection
to both parties in the event of a dispute or complaint, but what if there were no complaints to contend with in the first place?Here are our top tips on preventing possible consumer rights disputes to ensure that both parties secure a fair deal:
For tradespeople to consider
Set out all contract terms in writing: By making your contract terms solid and clear, you can avoid any misunderstandings between you and the customer in the long run. Setting the terms in writing also allows for terms to easily be referred back to when necessary.
Brush up on the legalities of your services: If any of your home improvement services require such things as planning permission or need to meet building regulation requirements, make it known to the customer that these are regularly approved.
Offer fair contracts: When setting out contract terms, do your best to ensure they are written in plain English with no hidden clauses. Be honest with your client so not to come up against legal problems later on down the line.
Give written quotations: Write down any planned costs or agreements in an open-book to act as a breakdown, letting the customer know where their money is going.
Agree on reasonable timescale: Workout a schedule that will assure your customer that the work is being carried out regularly and to an acceptable standard. It will keep the customer's faith that the job is being done correctly.
Provide an Insurance Backed Guarantee: Applying for an IBG provided by us assures your customers that in the unlikely event that your company liquidates, their money is safe and they remain protected.
For consumers to consider
Communicate any changes to project: If you wish for the installer or tradesmen to make any changes to your desired home improvement, let them know early on to ensure reasonable preparation. Try not to conflict with any contract agreements.
Inspect the product quality throughout: Take a regular interest in the quality on the progress and quality of the home improvement project, if you feel like it is not acceptable query it with the installer and check the contract.
Workout a project schedule: If the installer has not yet worked out a work schedule with you, suggest that they present you with one to ensure work is consistent and to a reasonable standard.
Check the installer's accreditations: Make sure the home improvement company you opt for comes accredited by various installers such as FENSA, FSC and of course us, the CPA to make sure they are reliable and trustworthy.
CPA membership provides protection for both parties
Becoming a registered
CPA member
assures your customers that you are a top rated tradesmen, highly skilled and regularly displays the best standard of trading practice. Tradesmen can prove to consumers that they are no rogue builders, instead being trusted craftsmen that take pride in a job well done.At the CPA we only deal with proven and accredited tradesmen and fully vet them for professionality and trustworthiness. If these qualities represent your service or home improvement company,
contact us
about achieving accreditation today!