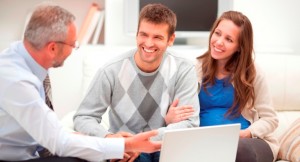 Modern home improvement customers are becoming more and more aware of cowboy builders every day. The truth is that no one deserves to be ripped off, and at
the CPA
we want to ensure that reputable tradesmen stand out from the crowd.Registering for CPA membership is just one way of showing your customers that you can be trusted, winning you more jobs that benefit both you and the homeowner. Here are 6 ways to stand out as a reputable local builder, protecting customers from potential harmful cowboy builders:
1. Display accreditation logos
The act of clearly displaying your business' accreditations on the web can work wonders in terms of winning customer confidence. Endorsements from such companies as the CPA, FENSA and Secured By Design is a quick and simple way of proving to people that you meet government standards when trading. You've done the work to meet these standards, shout about them!
2. Builders deposit
Offering your customers any kind of deposit protection can easily show homeowners that you care about retaining their trust. Whereas cowboy builders run the risk of losing their clients' money, having a thought through
deposit protection scheme
when carrying out any job helps to futureproof both parties.
3. Don't doorstop, use direct marketing
Going door to door in order to find business is no longer an effective way of notifying people of your trade. Investing in other direct marketing tools such as flyers, local advertisements or even a website can gradually build up your business' reputation in your local area. You'll soon find that people will feel obliged to seek you out, instead of the other way around.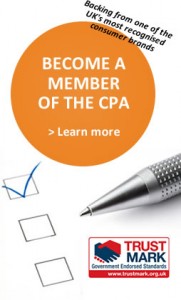 4. Gain Trustmark accreditation
TrustMark is an award winning scheme aimed specifically at homeowners, to help them source reliable and competent contractors to carry out home improvements and repairs to their property.
Trustmark
is another benefit all
CPA members
can take advantage of, showing customers that they are conscious about maintaining high standards.
5.Professionally written quotes and contract
Guiding your customers reasonably through the improvement process before it begins can hold a lot of value and save both parties a lot of issues in the long run. Setting out the terms and agreements in an understandable way helps to avoid misunderstandings later in the process, evading any potential consumer rights disputes.
6. Take care of your online reputation
The online space is an area that can make or break home improvement installers, trustworthy or otherwise. One bad review, testimonial or comment can undo a company, so it's important not to let it happen to you. Reliable, honourable traders such as those we accept for CPA registration have nothing to worry about, but ensure that your high quality service is reflected online also.
The CPA helps to promote consumer trust in tradesmen
The CPA offers a range of services and products to make sure that consumers feel confident when having work undertaken by tradesmen.
Deposit protection
,
insurance backed guarantee
and various financial services all serve to benefit both parties involved with the home improvement process.If you want homeowners to further trust in your business, apply online today!