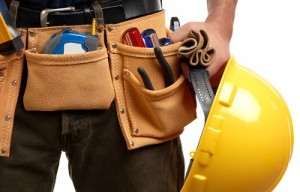 A cowboy builder can cause alot of hassle, expenditure and worry. But how do you spot these fake tradesmen, and therefore prevent the associated risks?If you are a homeowner, we offer 5 simple checks to make before making any decisions or parting with your savings. If you are a genuine tradesman, ensure that you are avoiding any of the following mistakes if you truly want to gain trust from your customers.
1. Is their business easy to find?
Reputable home improvement companies (and their staff) will be based at a headquarters. Even if working independently, genuine tradesmen will be able to provide an address, or at least a telephone number. A simple internet search with this information could reveal if the location matches up with what they have told you. If you are really struggling to find the address they have given you (or to find evidence of them working there) chances are you are dealing with a cowboy builder.
2. Are they a familiar name?
The profession of home improvement tradesmen, whether offering windows, doors or other products, is often based on customer recommendations and word of mouth.
If the individual cannot prove evidence of previous work, such as pictures or testimonials, then this should be a warning sign – many genuine tradesmen are keen to promote their previous work, and any evidence of happy customers.
3. Evidenced statements
For future reference, genuine tradesmen will put quotes, agreements and payment information into writing. If they don't, it is a sign that they are unwilling to produce tangible evidence of the transaction, or that they don't intend to keep their promises.
A reputable tradesman will always put quotes into writing if you ask – and this evidence will usually show clear contact details. Steer clear of those unwilling to provide any tangible agreements.
4. Third party recognition
If a tradesman claims to be a part of a trade association, or to be an approved installer, they will have clear proof of this. This may in the form of an identity card or certificate.
If the tradesman agrees to show you their certificate or card, and are still in doubt, make efforts to contact the organisation in question – they will have a database of all of their partners, which will be easy to find online, or by contacting them directly.
5. How do they accept payment?
It is rare these days that tradesmen will ask for cash up front, or kick up a fuss if you are unwilling to pay by cash. If the person is stubborn and only accepts a large sum of money up front, it is more than likely that they don't plan on completing the work in question.
Put simply, a genuine tradesman will never ask for the full payment before a job is completed, and already mentioned, they will provide solid evidence of any monetary transactions.
Peace of mind when you need it most
These steps will help you to filter the genuine tradesmen from the fake. If you are a homeowner, true peace of mind can be gained by opting for CPA approved tradesmen. If you are a professional, becoming CPA accredited helps you to prove your authenticity, stand out from the crowd, and to gain trust from the consumer.
We only deal with fully proven and accredited professionals – we remove the risk of both homeowners and hardworking tradesmen being negatively affected by the rise of the cowboy builder.