Minimum technical competencies (MTC): a new mandatory certification scheme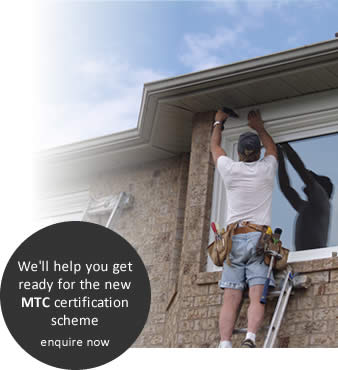 The certified installer scheme or 'Minimum Technical Competencies' (MTC) is a new requirement set out by the Department for Communities & Local Government (DCLG) that says installers have to transfer their existing registered companies from self-certifying, under the existing competent person scheme, to be certified under a revised system.
June deadline for MTC registration
From June 2014, installers will need to be registered with this new scheme, which is being rolled out to raise standards in the industry.
At the moment relevant industry experience 'grandfather rights' can demonstrate compliance, but this will not be the case from June 2014.
Additionally, for five years, installers will be able to demonstrate compliance through experience but only after completing certain tests and assessments. Through some organisations this could be achieved through an online Knowledge Test and On-site Assessment.
Despite rumours, qualifications will not be the only way to satisfy these government requirements. So NVQs will not be sufficient, for example.
What do I need to do to become MTC compliant?
Firstly – don't ignore this. Yes, there will be paperwork but in the long run it won't be too onerous. You can talk to one of the CPA team who will be able to give you all the information you need to deal with these changes and make the process as easy as possible.
We help installers demonstrate their experience, knowledge and competencies and become MTC compliant. Contact the CPA today to find out how we can help you.