The Consumer Protection Association (CPA) of Great Britain is proud of the magnificent achievement of our member Vantage Windows and Doors of Bellshill, Scotland winning the 'Best Window and Doors Company' in the 2018 awards. Pictured is the Vantage team with Managing Director Mr. Ernie Rea centre.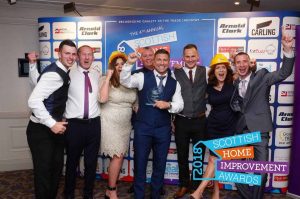 Mr Ernie Rea, owner of Vantage Windows and Doors commented,
"I'm thrilled at our win as 'Best Window and Door Company' at the 'Scottish Home Improvements Awards'. This endorsement reflects what our customers are telling us - our service and team effort is exceptional, providing the very best window solutions.Although not a regulatory requirement, Scottish customers expect and deserve an Insurance Backed Guarantee to give them the confidence and reassurance to buy. We've been a member of the CPA for nearly ten years and this has actively helped us bring the endorsement and customer validation that I need, giving confidence to windows customers looking for assurance that my business is reputable. Moreover, I am also looking forward to the CPA sending me my 10 Year Achievement Award!"
Mr Rea goes on to add,
"As well as membership of the CPA and the IBG's they provide, our customers have the confidence to know that we will always carry out installations of a very high standard. This is backed up by organisations and sites such as Which? and Trusted Trader. On the Which? site alone we have over 200 customer reviews and our average scores are an incredible 5/5 Stars for all categories! It is marvellous reviews like this from Which?, so trusted by consumers, that give our customers complete peace of mind".
Regulated by the Financial Conduct Authority (FCA) the CPA provides
Insurance Backed Guarantees
(IBGs) and
deposit protection
to installers carrying out home improvements. The CPA is recognised by consumers as one of the most trusted resources for finding accredited and vetted installers, ensuring that we can build trust in our members in the mind of the customer.Jeremy Brett, CPA Director comments,
"Well done to all the team at Vantage Windows and Doors. A tremendous endorsement of the high-quality installations that they have been doing for more than a decade."
Jeremy goes on to add,
"CPA members truly set the standard in the industries that they work in, raising the standard with us to ensure that the customer is always protected. Vantage Windows and Doors have worked with us for a decade and we have seen them go from strength to strength as their customers have continually fed back 1st class reviews and endorsements which evidence the high standards that we expect from our members. There is an increased expectation from customers for the very highest installation quality and Vantage Windows and Doors are making sure that they are at the pinnacle of installation."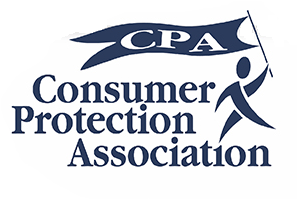 The Consumer Protection Association
Here at the CPA, our goal is to ensure that both consumers & tradespeople have peace of mind. We do this by providing services like
insurance backed guarantees (IBGs)
and
deposit protection
schemes as well as giving advice to consumers and tradespeople alike. To find out more, you can
browse our website
or
get in touch
.