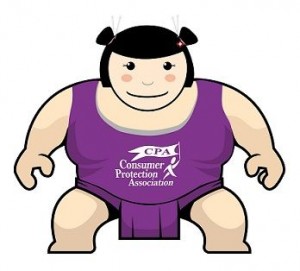 Back in January, we launched our #strongertogether campaign to help promote best practice throughout the glazing and wider construction industry.Fronting the campaign was our mascot and trusted accomplice, Sumo Yuki. Now, another new face has joined the CPA as an ambassador of the evolved #evenstrongertogether campaign – Akiko.Akiko and Yuki are a match made in heaven that is also set to benefit installers.We put Akiko in the hot seat to find out more about #evenstrongertogether and how this is helping installers win new business.
Hi Akiko, could you tell us a bit more about yourself?
I am an experienced architect and property professional living in London.This year I met Yuki when he travelled to the UK to front the CPA's #togetherstronger campaign.We are now married and will stay in the UK to champion trusted tradesmen and help connect them with consumers looking for home improvements.
What is the main aim of the #evenstrongertogether campaign?
The campaign is a fun way to promote the benefits of being a CPA member to installers and reinforce the message that, once registered, they will have everything they need to engage with consumers and win more sales in the home improvement market.
How is the CPA helping to raise standards across the industry?
We've worked hard to help installers engage with consumers to spread the message that with a CPA member their investment is better protected. Homeowners know that by selecting a CPA member – they will be working with tradesmen known for quality and integrity. It's no surprise that our members win more business than non-members.
What benefits can installers expect to receive as a member of the CPA?
As a recognised and trusted brand, membership gives installers an edge over competitors not registered, helping them win more business.On top of this, installers have access to powerful sales and marketing literature, training seminars, sales training guides, installer surveys and much more.
Can you tell us more about the installer surveys?
Quarterly reports are produced by the CPA and are available to all members.Every time an installer registers an IBG, once the job is completed the consumer is sent a questionnaire to fill out, asking a series of questions about the installer's work and approach.This data is then collated by the CPA and sent to the installer, helping them identify areas of service for improvement and increase best practice. It's a really powerful tool.
Installers can get cheap Insurance Backed Guarantees from anywhere – what is the value of using the CPA?
The CPA is the go-to source for consumers when finding accredited and vetted installers. A recent survey found that 70% of consumers believe that CPA members provide the most protection.We're also passionate about championing the installer and supporting causes, which help alleviate major issues affecting them and the industry. Plus, the CPA adds huge value to their members – helping them to improve their businesses over the long-term, rather than treating them like a transaction and not adding any real value.
Finally, what advice would you offer to installers to help them stand out in the home improvement market?
In a competitive marketplace, quality service will always stand out. Keep your customers' best interests at heart and aim to complete every job to a high standard.
The CPA has been providing IBGs and Deposit Protection for over 20 years and is widely recognised by consumers as a trusted resource for finding accredited and vetted installers.If you'd like to find out more about the rewards of becoming a CPA member, call us on 01462 850064 or click here to send a message through our contact form.