[caption id="attachment_13190" align="alignright" width="225"]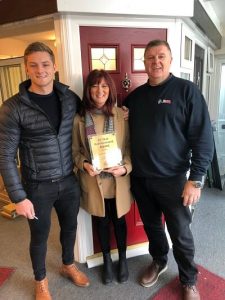 Pictured (L-R) Tom Haynes, Maria Haynes and Martin Haynes, MD[/caption]The Consumer Protection Association (CPA) is delighted to announce the exceptional 25 Year Achievement Award to Precision Windows of Worthing who have shown exceptional performance over the years, meeting and exceeding the CPA membership standards. They have received personalised achievement plaques for display to assist their sales work as customers of the Consumer Protection Association are increasingly looking for this reassurance.Jeremy Brett, CPA Director commented,
"Precision Windows are greatly valued as they up-hold the standards of the CPA day after day, providing the customer with the very best creative design, reliable service in install and the highest after-sales care that there is. We feel it is important to recognise their commitment and hard work, demonstrating the real quality in their field that CPA members all aspire to." He added, "CPA Members are the very best. We know this because we audit and vet them for the work that they are doing by surveying the end customer. To be a member for this length of time, the business must be getting the customer experience right. So well done to them – here's to the next significant milestones in their business journey."
Mr Martin Haynes, Managing Director of Precision Windows Worthing comments
"I am thrilled with this lovely award. Membership of the CPA is a big deal for us. Our customers expect us to offer guarantees and the CPA gives us these and more. The real kudos of being an active member of the best IBG provider is a big sales winner with our customers as they require that confidence"
.Precision Windows of Worthing can be contacted on 01903 235307.
Precision Windows Worthing

Who is the CPA?
The UK's leading association for raising guarantee standards across the home improvement industry with Insurance Backed Guarantees and Deposit Protection. • Established is 1993, The Consumer Protection Association – CPA – assists in both the elimination of unscrupulous traders from the home improvement market and to protect the consumer by regulating and raising standards of operation. • Regulated by the Financial Conduct Authority – FCA- we offer a range of services to protect the consumer when purchasing home improvements, delivering complete peace of mind from beginning to end. • We are not tied to any trade and therefore our protection schemes apply to a wide range of products and services. • Only dealing with proven and accredited contractors, we fully vet them for professional competence and integrity and this continues throughout the life of their membership.