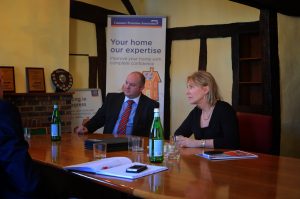 Yorkshire based home improvement company Crest Conservatories is celebrating 10 years as a member of the Consumer Protection Association.Crest Conservatories supplies and installs PVCu windows, doors and conservatories across the Barnsley and wider Yorkshire area.The CPA is recognised by consumers as one of the most trusted resources for finding accredited and vetted installers, which has proved a huge benefit to Crest Conservatories, helping them increase leads and improve conversion rates when it comes to selling.
The reputation of the home improvement industry
Managing Director of Crest Conservatories, Steve Hallsworth, comments: "The reputation of the home improvement industry still isn't great in the eyes of the homeowner but accreditation bodies such as the CPA are helping to change perceptions."We find pushy sales people as annoying as the next person but as a CPA member we can instil confidence in our customers that we are a trustworthy and quality company in terms of product and service."Crest Conservatories also use the CPA's marketing support to promote the benefits of choosing a CPA member to carry out home improvement work, using the CPA logo on their van signage and the CPA's marketing literature, which provides invaluable information to homeowners."The CPA offers a first-class service; they are always available to resolve any issues and we find their sales and marketing support incredibly useful. We would happily recommend them to other installers," says Steve.Jeremy Brett, Director at the CPA comments: "Congratulations to Steve and the Crest Conservatories team on 10 years as a CPA member. Homeowners are more likely to buy from you if you're a member of the CPA, as they know they are fully protected and only the reputable companies become members. So we're delighted to see Crest Conservatories winning new business off the back of being a long-standing CPA member and helping to raise standards across the industry."As well as Insurance Backed Guarantees and Deposit Protection, the CPA also offer its members a host of beneficial schemes such as marketing support, sales training help, and quarterly assessment reports that tell members what their customers think about the work they are doing.