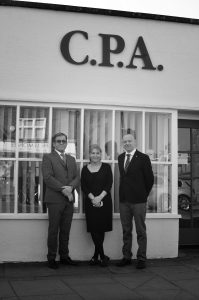 A registered Consumer Protection Association installer, who was recently featured on Channel 5's Cowboy Builders, says his membership has regularly secured him contracts over competitors who don't offer Insurance Backed Guarantees.
Freeform Construction Services Ltd carries out building and maintenance services in the North West region and specialises in garage conversion projects.
Owner Jim Allsop was recently interviewed as an expert for the garage conversion segment of popular property programme Cowboy Builders.
The segment centred on a recent project Freeform Construction Services completed in Reddish, where a double garage had been converted into an office space and utility room; and Jim was filmed offering advice on converting spaces for a variety of uses.
The homeowners, Steve and Louise Smith, were over the moon with the results, commenting: "We contacted a number of local builders to quote us but there seemed to be a reluctance to take on the job. The quote from Jim was the exception and when he arrived to look at the space it was immediately clear that he knew exactly what he was dealing with.
"In the space of just six days, the team have completely transformed our garage and the quality of work is of the highest standard, completely second to none."
Although his interview focused on the more positive aspects of the industry, Jim says shows like Cowboy Builders give good builders a bad reputation; and he urged homeowners to seek out reputable companies who offer protection to the consumer when improving their property.
Jim comments: "We encourage homeowners to carry out background checks before choosing a company. Ask to see examples of work, testimonials from previous customers and, most importantly, if they have any measures in place to protect their investment.
Being a CPA member
"With the CPA we offer a 10 year Insurance Backed Guarantee on all building work we carry out. This gives potential customers increased confidence and has resulted in us securing contracts over competitors who don't offer this service.
"Being a CPA member means you are trusted and gives homeowners instant peace of mind."
The CPA is the UK's leading provider of IBGs and is recognised by consumers as one of the most trusted resources for finding accredited and vetted installers.
Jeremey Brett, Director at the CPA, comments: "We'd like to congratulate Jim on his TV debut. It's fantastic to see one of our member's good work so widely publicised and to spread the message of promoting best practice amongst tradesmen.
"Being a member of the CPA offers many benefits; not only do we offer IBGs and Deposit Protection our marketing support, sales training help, and quarterly assessment reports help put our members head and shoulders above the competition."