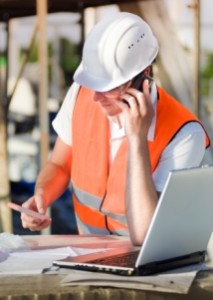 Reliability and trustworthiness: Important tools for any business
Although modern homeowners are becoming more and more savvy to the techniques of untrustworthy cowboy builders, there are still plenty of ways that reliable tradesmen and installers can set themselves apart and stand out from the crowd. At the CPA we're committed to successfully connecting accredited home improvement installers with consumers. Here are 5 ways this can be done to help promote reliability in your construction business:
1. Communicate with homeowners every step of the process
Simply keeping your customers informed throughout every step of the home improvement process can result in a world of good. It not only makes a dispute between both parties far less likely, but also shows that your business is professional and knowledgeable when undertaking the project. Communication ensures that the end result best represents the homeowner's standards, avoiding anything unexpected when the project is completed.
2. Maintain a positive online reputation
A large percentage of budding home designers research companies and products online before making their choice of installer or tradesmen. For this reason, it pays off to spend as much time as possible maintaining a positive online reputation that best represents your work and experience. This can be expertly done through the use of online reviews, social media and by quickly resolving a problem if ever it should arise online.
3. Provide professional written guarantees and contracts
When agreeing the terms and conditions of the job, setting out the terms, conditions and agreements in an understandable and written way helps to avoid misunderstanding and helps display how professional you are. Customers reasonably like to feel secure when opting for a home renovation, presenting an agreement in a clear and written format is recommended.
4. Utilise strategic marketing online and offline
Both digital and direct marketing goes a long way for a local home improvement company looking to establish themselves in the community. Homeowners no longer respond well to door to door salesmen, instead making way for other tools such as local adverts, flyers and even a responsive website. At the CPA we regularly help companies with marketing support, helping reliable tradesmen to win more business.
5. Gain CPA Accreditation
Registering for CPA membership is just one way of showing your customers that you can be trusted, winning you more jobs to benefit both you and the homeowner. CPA accreditation means you'll be able to confidently offer insurance backed guarantees and deposit protection to help give your customers financial peace of mind when purchasing.
The CPA helps place consumers in front of reliable tradesmen
As an FCA authorised organisation, at the CPA we're committed to protecting tradespeople & customers within the construction industry. If you'd like to reap the rewards of gaining CPA membership, call us on 01462 850064 or get in touch online.