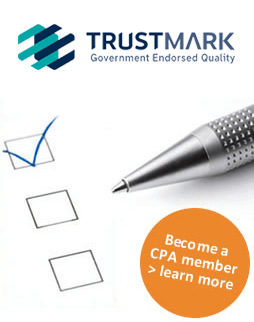 The CPA: a TrustMark Scheme provider
TrustMark – a brand of quality trusted by consumers across the UK
TrustMark is the ONLY Government endorsed quality standards scheme for trades that operate in and around the home.
The TrustMark scheme gives homeowners and occupiers a high level of reassurance that the trader will undertake a high-quality level of workmanship and treat its customers fairly, in accordance with a stringent Code of Conduct and Customer Charter which is a condition of TrustMark membership.
So when consumers see the TrustMark logo they will know that whether they are engaging an insulation company, solar panels installer, double-glazing firm or any other type of firm in TrustMark, they will be using a firm that meets required levels of competence, has their work regularly inspected to ensure quality, and looks after consumers.
Firms who wish to undertake work funded by the Government such as ECO (Energy Company Obligation), have to be accredited as TrustMark members from January 2020, to give consumers peace of mind and financial protection should their trader cease to trade within the guarantee period.
The TrustMark logo endorses reliable tradesmen & high quality workmanship
The TrustMark logo is universally recognised as a brand which promotes rated and reliable tradesmen, giving the consumer the assurance of high-quality workmanship and being treated fairly.
As a TrustMark Scheme operator, the CPA provides yet another key benefit to its members, giving them added kudos when it comes to selling their products and services to the consumer.
The CPA encourages all its members who install products or provide services to join TrustMark, to provide their customers with the peace of mind that they are dealing with a trader which is registered and accredited with the only Government Endorsed Quality Standards scheme.
Every measure is taken to ensure all information is protected.