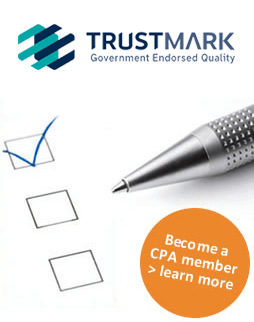 The CPA: a TrustMark Scheme operator
A brand trusted by consumers across the UK
TrustMark is an award winning scheme aimed specifically at homeowners, to help them source reliable and competent contractors to carry out home improvements and repairs to their property.
Supported by Government, the building industry and other consumer protection groups, the TrustMark Scheme also works towards improved performance and reputation of the home improvement sectors.
The CPA is proud to be part of this initiative to raise standards and boost consumer trust in the home improvement industry.
The TrustMark logo endorses reliable tradesmen
The TrustMark logo is universally recognised as a brand which promotes rated and reliable tradesmen, giving the consumer the peace of mind that their builders and installers have made the grade.
All trades are covered and have to meet exacting standards in order to achieve registration.
As a TrustMark Scheme operator, the CPA provides yet another key benefit to its members, giving them added kudos when it comes to selling their products and services to the consumer.
Every measure is taken to ensure all information is protected.